This is an archive of the 2011 Mad Robin Ball web site. To learn about the upcoming Mad Robin Ball, see our current ball page.
Staff
Give yourself up . . . to these wonderful teachers and musicians!
Our Dancing Master:
Andrew Shaw

Andrew was dragged kicking and screaming to his first country dance as a teenager in the '60s. He was quickly enthralled and went on to learn from some of the more fearsome dance instructors of the day.

Andrew is known for his reconstructions of dances of the late 17th and early 18th centuries, resulting in four published dance collections to date: Mr. Kynaston's Famous Dance in 2000, The She Favourite in 2002, Emperor of the Moon in 2006, and Farnicle Huggy in 2009. Andrew teaches with clarity, (British) wit, and an emphasis on style.

He lives in Cheshire where he runs the Lemmings Reprieve Dance Club -- a name that oddly but neatly sums up his belief in the life-enhancing qualities of this dance form.
Musicians: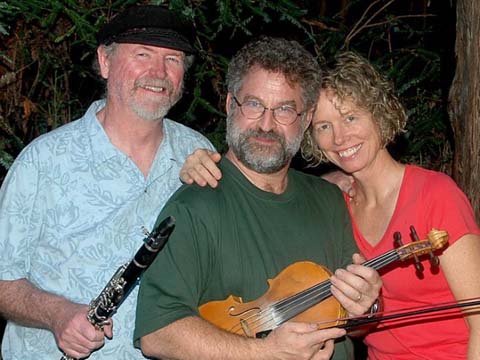 Jon Berger

Jon Berger (fiddle) has played music for morris, English country, and contra dances since 1976. A former musician for Berkeley Morris, he now plays for Apple Tree Morris in Sebastopol, and in Flashpoint, a Santa Rosa-based contra dance band. He is well-known for his powerful music, and, while playing for morris, his ability to maintain a connection between the music, the dancers and the dance (not to mention his sense of humor, and grand singing voice). He is a regular musician at BayArea and North Bay English country dances as well as dance weekends and dance weeks on both coasts.

Rebecca King

Rebecca King is a versatile dance pianist whose strong classical training and love of jazz shows in her rhythmic and lyric piano accompaniments. She plays ECD and contra in the Bay Area, mainly with the bands Flashpoint and Luceo. She has been featured on the staff of several West Coast dance camps as well as Pinewoods English Week. Rebecca's great-grandfather, living in a small pioneer town in the west, moved his log cabin from his farm into town to be closer to play the fiddle for the town dances. Playing for community dances runs deep in Rebecca's soul.

Jim has gone through a succession of musical stages, from early music to traditional. Having diverse tastes, he has played in many bands and performs on an absurd number of instruments, from accordion and bagpipe to whistle and zurna. He is familiar to local dancers from his performances at the Playford Ball, Mendocino English Week, and Fall Weekend, but is also featured at events on the East Coast and in England. Jim is currently active as a musician for English country dances, contras, Irish and Cape Breton sessions and dances from Brittany.
Last modified 3/10/11 by MRB webmaster